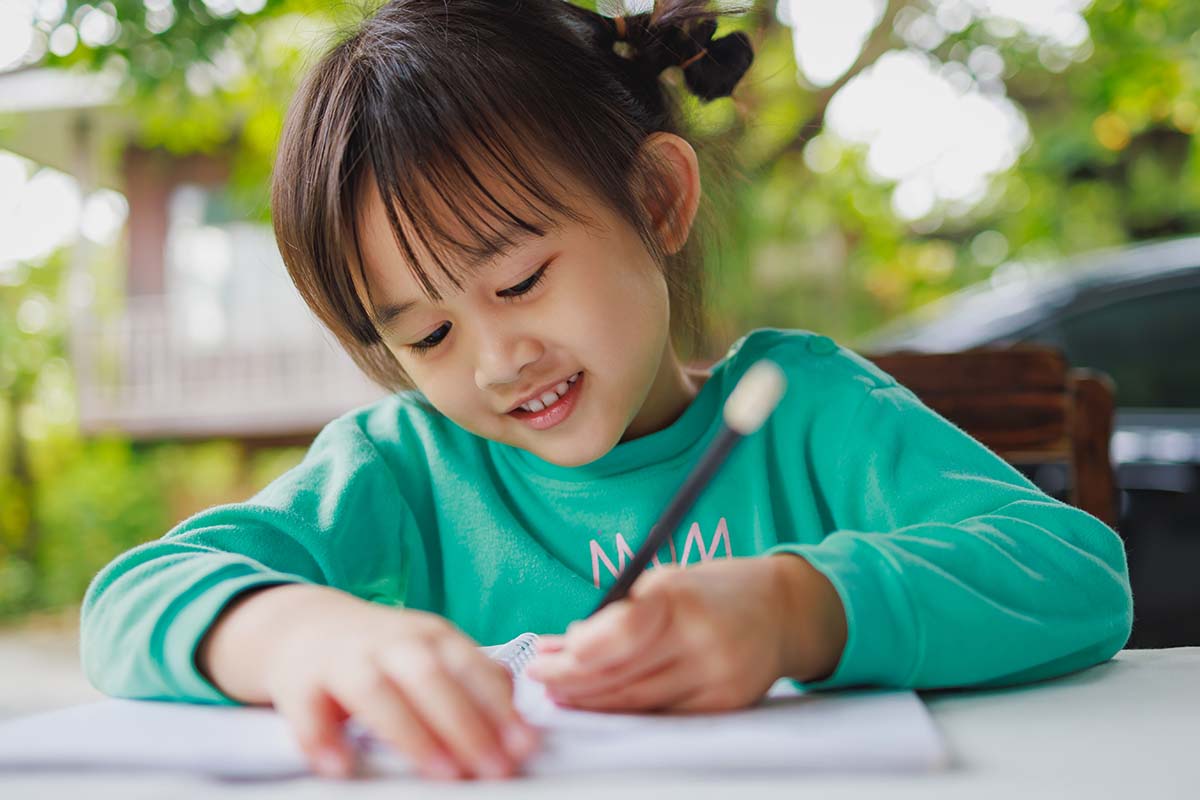 In Primary 3, your child will be introduced to Chinese composition writing (also known as 看图作文 "kan tu zuo wen") in school.
Let's explore how writing Chinese compositions in this new phase differs from what they've experienced in Primary 2 and learn how we can better support their growth as young writers.
P3 Chinese Compositions | A Journey of Creativity and Language Mastery
In Primary 3, your child will encounter the exciting challenge of P3 Chinese composition.
This involves receiving 4 composition pictures and crafting a well-structured story based on them.
Unlike Primary 2 (P2), where they focused on sentence writing, your child will now need to compose stories using paragraphs while aiming for a minimum word count of 80.
While it's essential to meet the word count requirement, let's remind our young writers not to be overly concerned with numbers. Instead of thinking about how many words they are writing, let's encourage them to focus on the heart of their composition—the content.
By expressing themselves creatively with the right vocabulary and good grammar, they will naturally flourish in their Chinese language proficiency.
Here are a few examples of picture-based compositions for Primary 3 that can help them on their P3 Chinese composition writing journey:
P3 Chinese composition pictures and samples
These Primary 3 Chinese composition topics have been carefully picked according to what's commonly seen and tested in primary school exams in Singapore. The composition examples are written by real 9 year old students that I've taught using the basic vocabulary that they've learnt in school. Hopefully with these samples, you can understand the basic requirements better.
P3 Chinese compo example 1 – 《诚实的小明》
小明从小就是一个诚实的好孩子。
有一天,他到百货公司里看到地上有一个钱包。他把钱包捡起,打开一看,发现里面有很多钱。
小明本来想把钱收起来自己用,但他知道这是不对的。于是,他拿着钱包去找店员。他告诉店员他在哪里捡到钱包。店员听了,夸小明很诚实。
几分钟后,一位阿姨冲进店里,说她的钱包不见了。店员马上把钱包交给了那位阿姨。阿姨知道钱包是小明找到的,十分感谢。她也夸小明是个诚实的好孩子。
小明听了,也很开心自己做了一件好事。
P3 Chinese compo example 2 – 《不再顽皮了》
小明是一个很顽皮的孩子。他喜欢到处跑跳,经常不听父母的话。
有一次,他在家里玩耍,偷偷地爬上了桌子,想要动天花板。没想到,他的脚突然一滑,结果小明便跌了下来。
小明的妈妈听到她的哭声,马上跑进房间看发生了什么事。她发现小明的头流了很多血。妈妈非常着急,赶快把小明送到医院。
医生检查了小明的伤口后,告诉小明的妈妈小明的头部受了一点皮外伤。小明知道错了。经过了这件事,他决定改过自新,以后不再那么顽皮了。
P3 Chinese compo example 3 – 《贪吃的后果》
小华是一个贪吃的小孩。他总是喜欢吃零食,不听父母的话。
有一次,小华又买了一大袋的薯片和巧克力。他虽然觉得有点饱,不过想了想,还是决定再吃一点。不久,他肚子开始不舒服。他觉得非常难受,躺在床上叫了起。
小华的妈妈听到了,马上到客厅探个究竟。她看到儿子痛苦的样子,便问他发生了什么事。小华说他吃了太多的薯片和巧克力,所以肚子痛。妈妈连忙带他去看医生。
到了诊疗所,医生告诉小华,他肚子痛是因为吃了太多的零食。医生给他开了一些药,也叫他以后不要再乱吃零食了。
通过这件事,小华学也不敢乱零食了。
To make full use of these Chinese composition samples for Primary 3, be sure to study to their sentence structure, vocabulary, grammar, and punctuation. You can then develop your own writing skills from there.
Besides that, try to think critically about the writing as you are reading them. Why did the writer choose a particular word? How did the author organize their ideas? Answering these questions can also help you develop the critical thinking skills you need for life.
How to improve your Chinese composition – free consultation
If you are worried about your child's composition writing skills and unsure about how to help them improve their Chinese composition, I can help.
Send me a sample copy of your child's Chinese compo, along with the pictures and get a free assessment on the area to work on for immediate results.
Hopefully, this post has helped you in one way or another in terms of writing a Chinese composition for Primary 3.
Let me know if you have any other questions about improving your Chinese composition in the comments below.